Most of us change our own strings, fewer of us have replaced nuts or bridges, and fewer than that have ever attempted a neck replacement.  But did you know there are places to get training to do those things, and many others?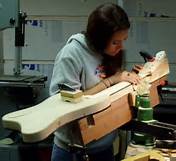 If you Google 'guitar repair training', or a similar search term, you're going to get a couple of dozen results, ranging from full-time 4-year schools to weekend exposures about your chosen craft. What's the best thing?  That depends completely on where you want to end up.
If for instance, you'd like to be the designated fixer for your band on the road, then maybe the 2 year experience is not for you, and you'd be better off in a limited exposure situation, like the 7-day course offered at American School of Lutherie in Portland, Oregon (www.americanschooloflutherie.com).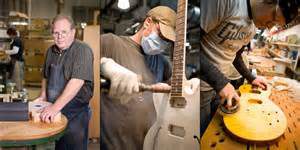 If you're in a situation where you can commit to a 1 year course of study (where the final project is you building your own guitar from scratch!), you might consider the offering from Musicians Institute, in Hollywood, California (www.mi.com).  They've been around for decades, and have a sterling reputation.
A 2 or 4 year plan ending in a degree can be had from several institutions, including Renton Technical College, Renton, Washington (www.rtc.edu);  Minnesota State College Southeast, in Red Wing, Minnesota (www.redwingmusicrepair.org/guitar), and the above-mentioned Musicians Institute.
Other possibilities include:
The Chicago School of Guitar Making, Chicago, IL  – www.chicagoschoolofguitarmaking.com.  Since 2005, more than 1,900 students have been through their programs, which include such interesting titles as, "Guitar Electronics Repair and Upgrades", "Setup and Maintenance of Guitar and Bass", and "Champ Tube Amp Building".
Galloup Guitars, Big Rapids, MI. –

www.galloupguitars.com

  –  A very highly recommended facility, with courses ranging in length from 1 weekend to 6 months.  Lots of video and endorsements on their site.
Eastern School of Fretted Instrument Repair,  South Freehold, NJ –  www.njguitarrepairschool.com – Another extensive site, with courses ranging from a "4-day summer Road Tech Guitar Seminar", to their 20-week offering, "Full Guitar Repair School Course".  They also offer discounts to veterans.
Roberto-Venn Guitar School of Luthiery, Phoenix, AZ.  –  www.roberto-venn.com  –  A beautiful site, lots of gorgeous pictures, a short film, "The Path of the Luthier", and courses ranging from a 3-day Tool Seminar, to their 5-month "Guitar Building", flagship course.
Hawkins Guitar, Virginia Beach, VA.  –  www.hawkinsguitar.com  –  Ranging from a 1 day 'Guitar Set-up' class, to a 20-day, Build a Guitar from Scratch course, and even a Ukulele building course, Hawkins Guitar has the one-on-one experience widely covered.
Midwest Guitar, St. Louis, MO.  –  www.midwestguitar.com  –  you could take from 3 days to 1 year to work in the many classes available here, building and repairing classical, acoustic, electric, bass, violin, mandolin, banjo, and others!
There are hundreds of other places to learn guitar repair, I invite you to search out, discover, and commit, working until you meet your goal!
–  we welcome your comments!